Help Desk & Asset Management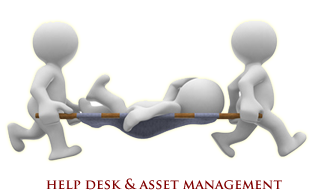 Over2cloud's Help Desk & Asset Management is an effective centralized help desk system covering all the regular complaints/ feedbacks/ request of all the users from the various departments with provision to extend this services to the customers as well.
Some of the salient features are:
Four Levels of Login Management for User & Dashboard:
Admin
Over All Coordinator:
HOD/ Department Level Coordinator:
Normal User
Utility Management:
Contact Master
Group Master
Escalation Master
Shift Master
DND Master
Backup
Stock Master
Feedback Master
Location Master
Allow Mobile Master
Allow Time Configuration
SMPP Mail Configuration
Pull Keyword Configuration
Account Status
Help-Desk Management:
Escalation Mapping up to three levels
Configure Feedback Drafts with pre-defined resolution time
Trigger Feedback through SMS / E-mail to multiple Recipient
Lodging the feedback with auto-generated ticket ID
Transact / Close of Complaint after Resolution
Auto Escalation of Feedback for not resolved within Resolution Time
Tracking of Pending & Resolved Feedback
Reports of all incoming & outgoing Feedback with Department, Status & Time Parameter
Asset Management:
Category wise asset management
Various assets are mapped with vendor & support details
Mapped with allotted departments, employees
Compliance Management:
Hardware / Service wise multiple reminders Set Up Via SMS & Email
Feedback Management Via:
Online
Call
SMS
Mail
Mobile Apps
Communication Master based on departments/ groups/ Users Via:
Instant SMS
Schedule SMS
Instant Mail
Schedule Mail
Analytical MIS Generation for various modules on wild search basis
Existing Client Management:
With Option of Basic / Complete Details
Relationship Management with Owners & Operational Managers
Existing Associate / Vendor Management:
With Option of Basic / Complete Details
Relationship Management with Owners & Operational Managers
Offering Management:
Mapped with respective Sub-Offering, Product & Brand
Knowledge Resource Management:
Training & Development Materials
Sales & Marketing Materials
More details about the solution or demo can be provided with relevant case examples on demand.
The solution flow depicted below is about the modes for ticket management collation & escalated to the respective hierarchies & the management if not addressed as per SLA & MIS Generation: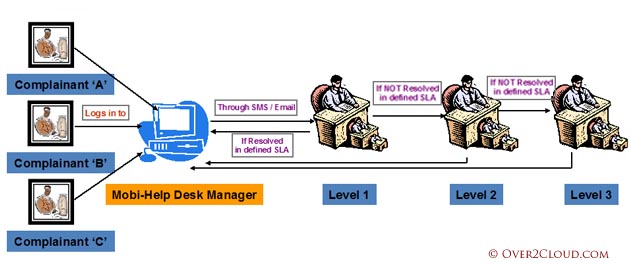 Over2Cloud's Help Desk Management has following benefits:
Builds up a 'strong system' that is independent of an individual.
Leaves 'no communication gap' between various departments.
Since 'integrated with ICT' so smoothens the internal day-to-day working in an effective manner:

Auto Push Messaging (Push SMS)
Pull Messaging over Virtual Number (Pull SMS)
Voice: In Bound Dialer (IVRS over IBD)
Voice: Out Bound Dialer (IVRS over OBD)
Online Mode
Touch Screen based Kiosks
Mobile Applications over Android, IPhone, Blackberry, Symbian etc.

Asset Management is well taken care of with all history mapped in terms of vendor, allotment to employees, support issue etc.
'Sets up an expectancy' based on stipulated timeline for various tasks like requests, feedback, complaints etc.
'Transparently' identifies the workers with non-workers across various departments.
Is on way to go for 'paperless'.
Ticketing System based help desk system is good for 'tracking' the status.
Management Information System is built up for 'analytics'.
Thus, enhances the productivity of the organization as whole with MIS analytics on HOD & senior management level.